COOK
E-commerce Website
COOK are an award-winning national manufacturer and retailer of high quality frozen meals. Their custom-built website, developed by Redspa, allows COOK to achieve their aims of being a multi-channel retailer.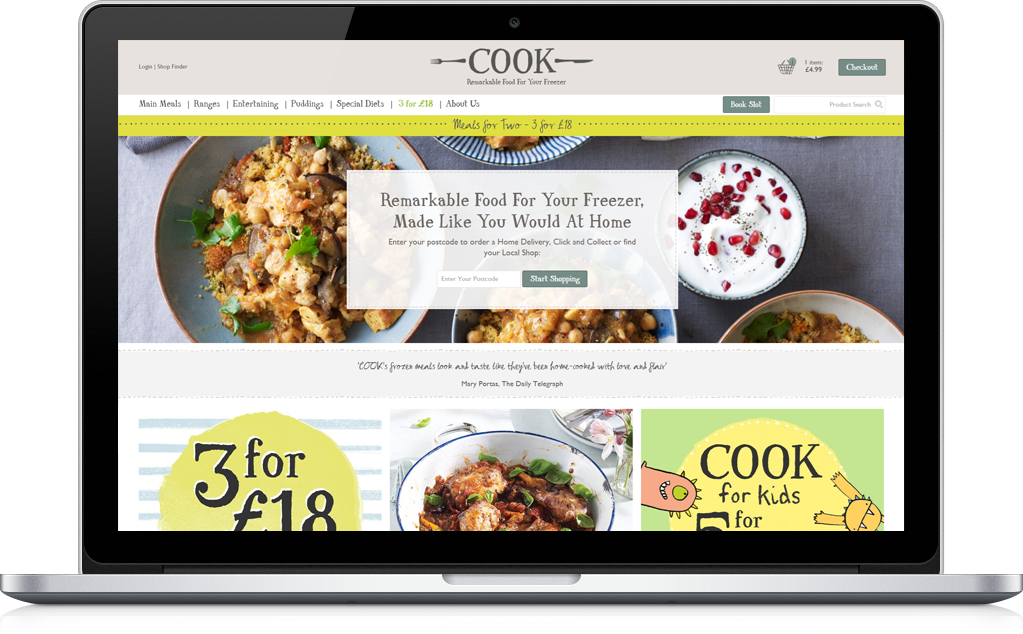 A long-running partnership
The team at Redspa have been instrumental in COOK's IT operations since the very early days of the business when there were just two shops in Farnham, Surrey and Tunbridge Wells, Kent.
Now, as a national retailer with over 80 shops we continue to work closely with their in-house design and retail teams to consult, develop and maintain the online presence of the business, ensuring the smooth operation of their e-commerce offer - encompassing a national courier delivery service, local vans run from franchise stores and a store-wide Click and Collect service.
Project Highlights:
Fully responsive front-end website, coping with large traffic volumes
Multi-million pound turnover e-commerce website fully integrated with multiple SagePay merchant accounts, courier company consignment booking systems and text message (SMS) providers.
Back-end and intranet systems for telesales order taking and order processing.
Website content management - allowing the majority of content to be updated in-house by COOK including product, promotional and order details.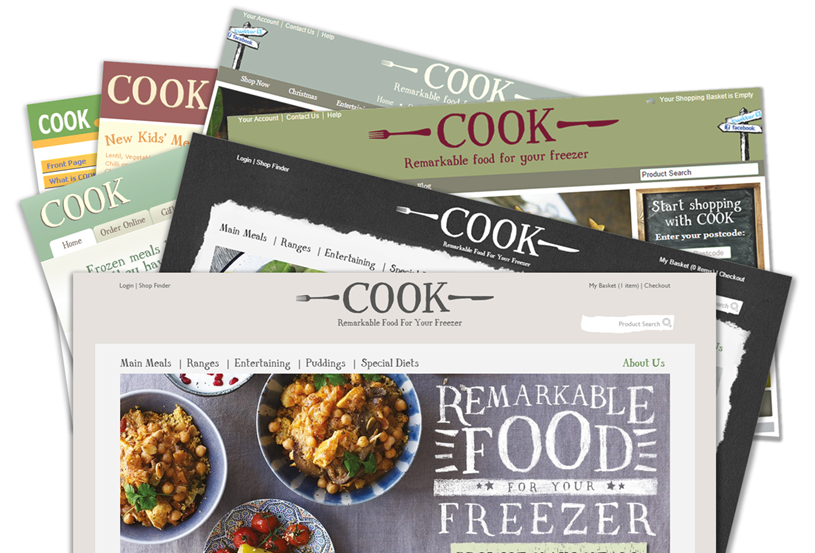 "Working with Redspa doesn't feel like you're working with a normal agency. They're collaborators and are happy to challenge and make suggestions to get the best outcome, which is exactly what we want at COOK. Our online performance and customer experience has improved beyond belief in the last couple of years due to a new conversion rate optimisation agenda and monthly development program that we signed up to with Redspa. They're a great, really fun team and we love working with them!"

Jemima Ferguson, Head of Marketing & E-commerce
E-commerce website development
The COOK website has evolved significantly over the past 12 years and Redspa have been involved throughout the process.
Initially just an informational site for the fledgling business, it was soon expanded to be an early e-commerce site with an online trial commuter click and collect ordering service for pick-up from Sevenoaks Station in Kent.
Full e-commerce started a few years later with the launch of their National Home Delivery service - a first with delivering frozen meals across the UK using overnight ambient courier. The team at Redspa assisted with the design and implementation of the service, from the packaging design, logistics operations and website implementation.
Over the subsequent years, the site has expanded and adapted to current web technologies, trends and the omni-channel retail landscape. It is now a fully responsive experience, meaning visitors are able to view and order the full range of meals no matter what device they're viewing the site on.
One of the more recent developments on the site has been the introduction of a full Click and Collect service, implemented across all COOK branded retail stores. Customers are able to order online for collection within two hours, aided by integrations with SagePay, Google Cloud Print and TextMarketer SMS notifications.
Intranet development
Redspa were commissioned by COOK to design, develop and create an Intranet system for inter-store communication and finance management/sales tracking.
Developed using the Microsoft .NET platform, the system has expanded to allow for individual stores to manage orders with central warehousing systems, process local van deliveries and Click and Collect orders. Additionally, the system allows them to update their website profile with up to date information such as seasonal store opening hours, information on tasting days and order capacity.