Fiona Penny
Brand Identity & Website Design
Fiona Penny, Bespoke Home Finders take the stress out of the buying and renting process, managing and negotiating the complete process on your behalf.
Fiona and her team came to Redspa in need of a new brand identity, logo and website to showcase their personable, yet expert approach to sourcing new homes for their clients.
We worked closely with Fiona on all three elements of the brand overhaul and bought the project to a close by creating bespoke POS and marketing material for the business.
Branding/Logo Design
The goal with the Fiona's logo re-design was to inject some personality, whilst maintaining a professional, family feel.
We achieved this through the use of a hand written font, to portray personality and reassurance through the familiar business name. We chose to use a capitalised, more professional font for the company motto – to inform the viewer of the expert service available.
Additionally, a key hangs from the 'y' of logo for further personality and character. The key artwork forms a secondary stamp/emblem for use when the full logo is not necessary.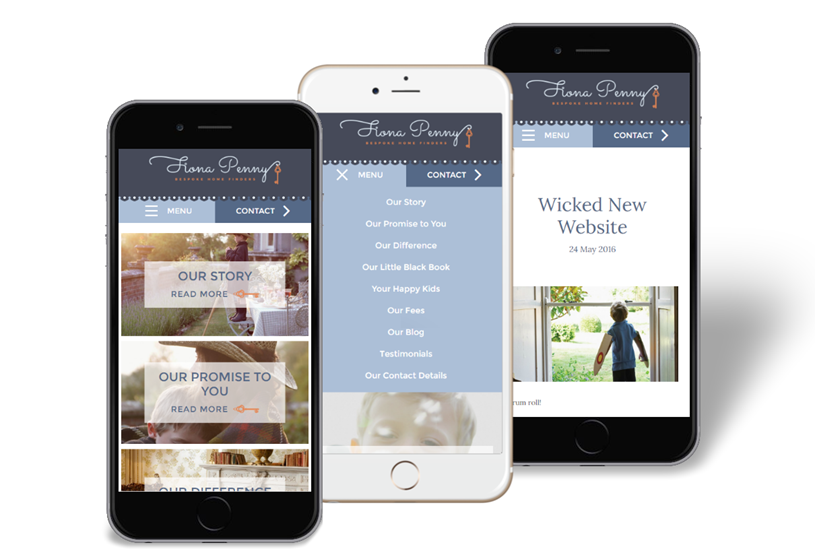 "Redspa have been instrumental in developing a strong and unique brand identity and website for us that really captures what we are all about. We have received many compliments on our new website since it was launched. Redspa are a great agency, with good design and technical skills who are not only flexible, efficient and professional but a friendly team who really care about delivering results for you".

Fiona Penny
Website Design & Build
Creating a welcoming space that would attract new business was a key goal of the web build, we opted to go with an image-led design that would compliment Fiona's new brand identity.
Testimonials, as well as a dynamic blog were crucial to the sites design in order to attract new business/keep the website content fresh. Redspa's bespoke CMS (Content Management System) offered just the solution, giving the team full control of the blog and the rest of the site to update as and when they need.
Print/POS Design
Shortly following the site launch, Fiona asked if we could work on the re-design of their welcome pack and marketing material. Working with Crucial Colour, our printer of choice we updated the existing 'welcome pack' with new images and artwork. The following elements were created:
Introduction pack with a foiled logo, containing 4 x A5 cards.
An A6 informative sales card.
Business cards for all members of the team.
Compliment slips.
Letter head and continuation pages.
Project Highlights
Adaptable logo design that can be used cross-platform.
Dynamic website, easy to navigate and get in touch with the team.
Fully responsive build, allowing users to view the site on mobile and tablet devices.
Bespoke Content Management System that gives Fiona and her team the ability to upload and customise their website.
Luxury print/POS material that compliments the brand and businesses.
A flowing design that is optimised for Fiona's beautiful imagery, whilst making information easy to find.